Adding a generic SCSI device
The guest operating system can have direct access to SCSI devices connected to the host system, such as scanners or tape drives. A virtual machine can use the generic SCSI driver to run any SCSI device supported by the guest operating system.
You must add a generic SCSI device to the virtual machine to map virtual SCSI devices on the virtual machine to physical generic SCSI devices on the host system. Up to 60 generic SCSI devices can be added to a virtual machine.
Here is how you can add a generic SCSI device to a virtual machine in VMware Workstation Player:
1a. If you are using Windows host system, run Player as a user who has administrative access.
1b. If you are using Linux host system, log in as a user who has read and write permissions for the SCSI device.
2. Select the virtual machine from the library and go to Player > Manage > Virtual Machine Settings.
3. Click Add on the Hardware tab.
4. Select Generic SCSI Device as the hardware type: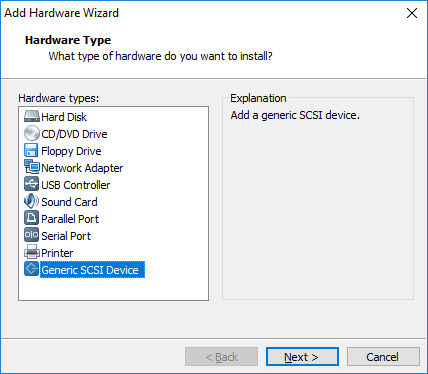 5. Select the physical SCSI device to map to the virtual SCSI device. To connect the SCSI device to the virtual machine when the virtual machine is powered on, check the Connect at power on option: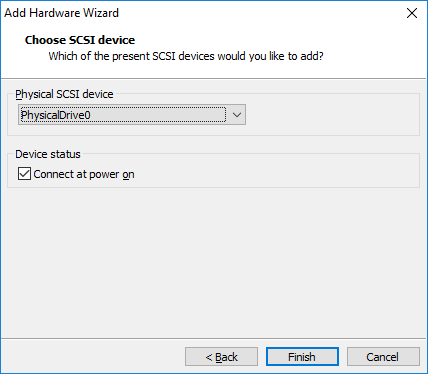 6. Click Finish to add the device.