Python guide for complete beginners teaches you how to program in Python – a general-purpose, high-level programming language widely used today. This book is designed for people without much experience in the world of programming. Although the book presumes some knowledge about computer systems in general, it is customized for beginners.
You can find the table of contents here. The sample chapter can be downloaded here.
The price of the book is only $4.99. You will get a nicely formetted, print-ready PDF file. In case you are not satisfied with the ebook, there is a 30 day money-back guarantee – just send me an email and I will refund the money. The payments are made through PayPal.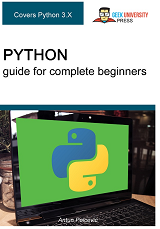 If you don't have enough money to buy the book, feel free to use the contact form to send me an email and I will send you a copy for free.